I arrive at the airport in a fog after a twelve-hour flight from Santiago. It is hot and the clothes I wear are for another hemisphere. As I go for my bags, I vaguely hear my name being called but it does not register. I have been T.D. for two weeks and the name Tom fails to penetrate. Finally, my boss appears from the men's room calling my name and I realize that I am back in North Carolina. I am home.

An hour later, I pull into my drive, greeted by my daughters Brooke and Piper, who are still in their underwear despite the midmorning hour. Valerie, on the phone in deep conversation with a girlfriend, gets up and pecks me on the cheek while I bear hug my six year old. The next few hours show that the feminine chaos my absence permitted has not done any lasting harm. I nap, half waking in mid-afternoon to wonder where I am.

The root of my confusion is not so much fatigue as the immersing effect of my first Snofari Expedition. It will not be my last. Hours before my arrival in the land of tobacco and cotton, I was on a midsummer ski expedition with my lifelong friend C.K. Littlewood, who I once knew as Chris, and my new lifelong friend Will Wasson, our expedition leader, C.K.'s boyhood companion now brother-in-law and his perfect alter ego. We, along with our Chileno driver and interpreter El Condor, are the Buen Grupo.

For the past two weeks, we have been exploring the Andes from within sight of the nearly 7,000 meter heights of Aconcagua to the surreal temperate rain forest and breathtaking high country of Alta Patagonia. As skiing goes, the past two weeks have been cathartic. Will, a career professional skier and extreme adventurer, has guided C.K and me to some of the most challenging and memorable terrain I have ever tackled, with or without a pair of boards strapped to my feet.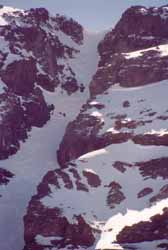 The pace was set on the first day in the mountains towering over Santiago. La Chimenea. Muy inclinado. Muy peligroso. Very steep. Very dangerous. A rite of passage for local skiers, La Chimenea instilled a healthy dose of fear into the Buen Grupo. After a steep ascent in an adjoining chute and a traverse across a ridge of volcanic debris, we peered cautiously over a cornice into what may be the most perfectly formed couloir this side of Arapaho Basin. As we hop-turned down the narrow fifty-degree chute, chunks of wind slab cascaded along with us, careening off the walls of rock and magnifying the sense of the vertical. With the experience of descending La Chiminea in my quiver, reservations about skiing the A-Basin chutes are now erased.
Our next stage found us driving the hair-raising route to Portillo on the once disputed border between Chile and Argentina. I don't know which was more disconcerting, the lack of guard rails or the habitual, yet perfectly orchestrated version of chicken the Chilenos played as they worked their way up the pass. The lift service was almost as unnerving. The Roca Jack, an odd surface lift once powered by donkey, pulls skiers five abreast up a steep slope to the base of a cliff where you off-load by sliding backwards while trying to avoid a tangle with your neighbor. No lawyers in Chile. The skiing was spectacular with steep chutes emptying onto a frozen lake, hanging glaciers, soaring Andean Condors and the wind borne lament of an Inca prince mourning his maiden long ago lost in the Laguna del Inca.

The final stage of our expedition found us in Argentina's Alta Patagonia in the picturesque lakeside city of Bariloche. The Buen Grupo was home. A week in the warm community of Hector and son Toya's Mountain Club left us with a strong impression of Argentina, and Argentina with a strong impression of us. On the final day, we woke to two feet of fresh powder, blue bird skies and local skiers who eschew the off-piste freshies. The sensation of our final run, arcing through 2,000 vertical feet of untouched, waste-deep powder will be hard to suppress as try to get my feet planted more firmly in the vicinity of the Mason-Dixon. Monday is two days away. There may be time.

- Thomas D. Laing