---
What past guests have to say about Snofari...
While pictures paint a thousand words, perhaps the best testimonials to a Snofari Expedition are captured in the words of past clients. We provide a bit of both here!
"The skiing was spectacular with steep chutes emptying onto a frozen lake, hanging glaciers, soaring Andean Condors and the wind borne lament of an Inca prince mourning his maiden long ago lost in the Laguna del Inca."
Thomas D. Laing
Summer 2003 Expedition
"Many thanks for the great holiday. The way you organized it was great! It's not easy to have such a varied trip go off without a hitch particularly given that we used every mode of transportation possible except a horse!"
Bill Richards
Summer 2002 Expedition
The Richards clan and Expedition Leader, Will.

"I had the time of my life with you in South America!"

John Richards
Summer 2002 Expedition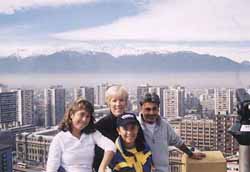 Sarmini Family in Santiago.

"A terrific experience! The whole family enjoyed the skiing, the sights -- the total 'Snofari trip'. We hope to do it again soon!"

Sarmini Family
Summer 2001 Expedition
"Skiing with Will in South America was the best summer of my life."
Carlos Cagin, age 12
Summer 2001 Expedition